Newsletter: Meet our COOL new BULAC board and learn about upcoming events …
Posted on: Oct 23rd, 2020
¡Hola BULAC familia! Greetings fellow LatinX peers and alumni. 2020 has been a long year… almost seems like a decade… but we have great news and upcoming programs to share with you. First, we wanted to introduce our new BULAC board below. Please feel free to reach out to them and say hi! After you learn more about them, make sure to continue reading to learn more about upcoming opportunities for connection.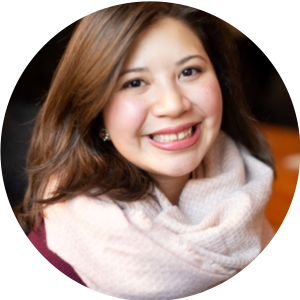 PRESIDENT – ARACELI MENDEZ HINTERMEISTER,
president@bulac.org
Araceli is a librarian and information professional. She currently serves as a Knowledge Manager for Uplift Education, a public charter school district in the Dallas-Fort Worth area. She's worked in a variety of public, academic, and corporate libraries where her work always revolves around helping others connect with literary and informational resources.

Araceli grew up in the U.S. Mexican border town of Laredo, Texas in a family of paleteros. Her family's paleteria celebrated its 65th anniversary in Nuevo Laredo, Tamaulipas this year. While she's not in the business of making ice cream, she does love to eat it and her favorite flavor is elote.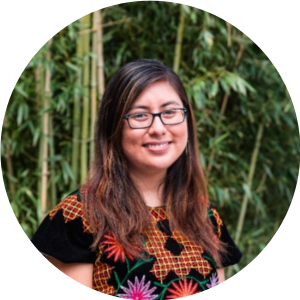 VP CAMPUS PROGRAMS – SILVINA HERNANDEZ,
programs@bulac.org
Silvina is a Brown University alumna class of 2017. She identifies as a migrant, community advocate, first-generation college student, with a long-standing passion for racial justice, immigrant rights, women's rights, and economic justice. Silvina is currently working on development and fundraising for a nonprofit in California. Silvina's favorite de-stressor is to sing a passionate mariachi song; as a student at Brown, she was a proud member of Mariachi de Brown all four years!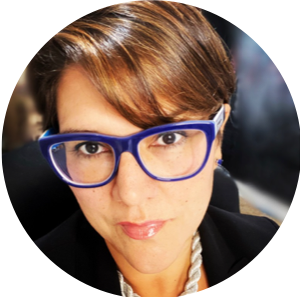 VP COMMUNICATIONS – IVON RODRIGUEZ,
communications@bulac.org
With experience in business development, general management, and marketing, Ivon's diverse background stems from her love of entrepreneurship, business innovation, and concept creation. Ivon is a first-generation college student and graduated from Brown University in 2000 with a double major in International Relations and Hispanic Studies. She holds a joint Executive Masters in Business Administration from Brown University and IE Business School (2016) and is currently pursuing a Ph.D. in Business at Virginia Tech. Ivon is the Chief Marketing Officer at The 360 Group. A Miami native, when Ivon is not working, volunteering, or conducting research for her Ph.D., you can find her hiking remote Florida trails, occasionally running into alligators and black bears.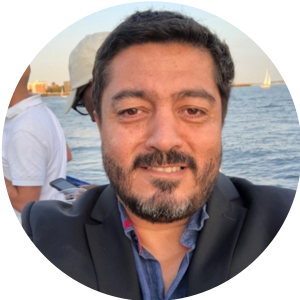 VP FINANCE & DEVELOPMENT – GUILLERMO DE LOS SANTOS,
finance@bulac.org
As a Global Individual Giving Advisor, Guillermo is responsible for the development and implementation of global private fundraising strategies to maximize income through investment in high potential and priority/strategic markets. Guillermo has been marketing and fundraising nationally and internationally for more than 20 years. He has experience in delivering income expansion and mass customer/donor engagement for organizations such as Doctors Without Borders, UNICEF, Save the Children, Amnesty International, and others. Fundraising is Guillermo's passion. He is a 2020 IE-BROWN MBA graduate. He recently completed his MSc in Major Programme Management (MMPM) from Oxford University and has a BA in International Relations from the Universidad del Salvador. If you ever spot Guillermo having difficulty walking it is probably due to his extreme love for certain sneaker models. Even though he wears a size 9.5, he will go as far as purchasing a size 11 if that is the only available pair.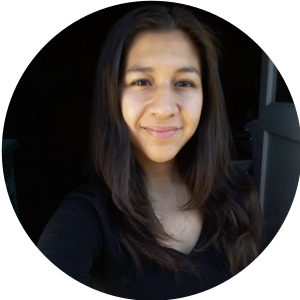 VP REGIONAL ENGAGEMENT – RACHAELL DIAZ,
programs@bulac.org
Rachaell '19 is a recent graduate who was abroad in Mexico as a Fulbright ETA before the pandemic. She is originally from Santa Barbara, California, and identifies as a first-generation, low-income Latina. As a student, she was involved in various groups on campus, such as Latinas@Brown and the Salsa Club! A fun fact about Rachaell is that her family currently owns an Asian market. Although she does not identify as Asian, she has learned a great deal about Asian culture by helping her parents run their store.
Aren't they cool?!? We thought so, too!!! They have so many ideas we are sure you'll love! ️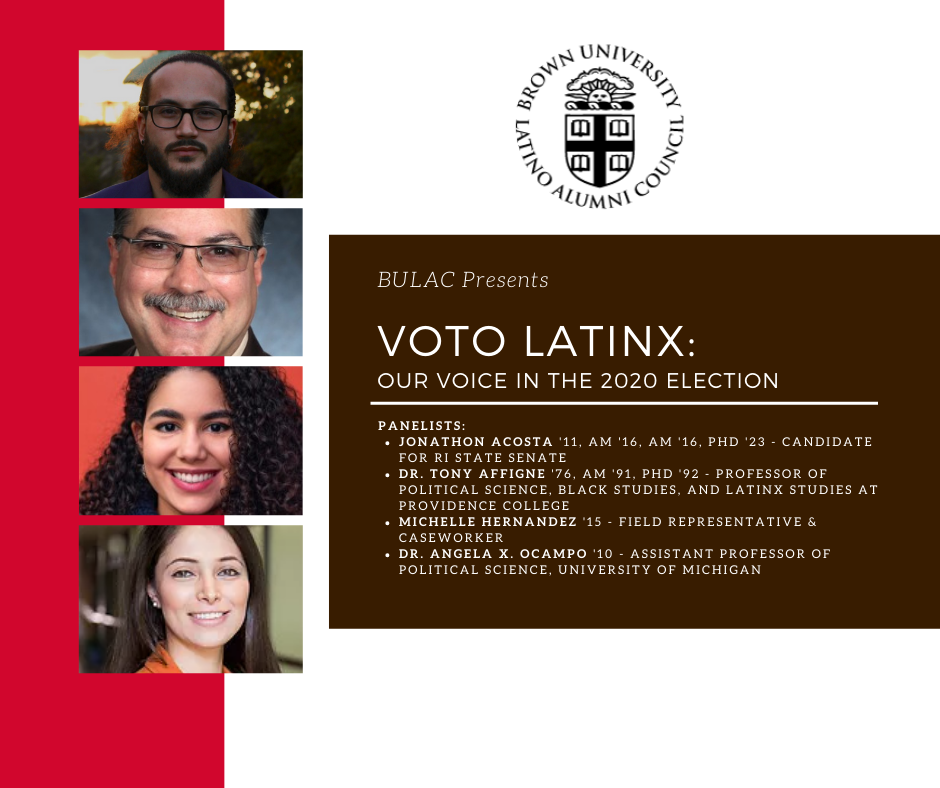 This year's election is like no other and the Latinx community is set to become the largest racial and ethnic minority in the electorate. Join members of the Brown University Latino Alumni Council to discuss how Latinx voices are shaping the 2020 election, the issues most important to the Latinx community, and how we can continue that momentum post-election.
Event details and registration can be found here. 
_Historically Underrepresented Groups Alumni Engagement Survey
A few days ago the Brown Alumni Association sent out a survey with the goal to understand the perspectives and lived experiences of alumni from Brown's historically underrepresented groups.  We would like to encourage those who haven't filled out the survey to take a few minutes to complete it. This survey will help the Brown Alumni Association, the Office of Alumni Relations, and BULAC have a better understanding of the needs of alumni in historically underrepresented groups and will help shape the future of alumni engagement at Brown.  Each alum received a unique link so please be sure to check your inbox for the original communication. Your thoughts and experiences are greatly important to us, and we appreciate you taking the time to share them.

Please follow us on Facebook via our new group page. "New page?!?", you ask… yes… we know… you may follow one of our existing regional BULAC pages… but this a FB group and will allow YOU to post your news and connect instantaneously. How excited are you that you will be able to continue to grow your BULAC familia for years to come? We look forward to future engagement with "all y'all"! (using a bit of TX lingo to especially salute our new Prez, Araceli, and her home state!)
---